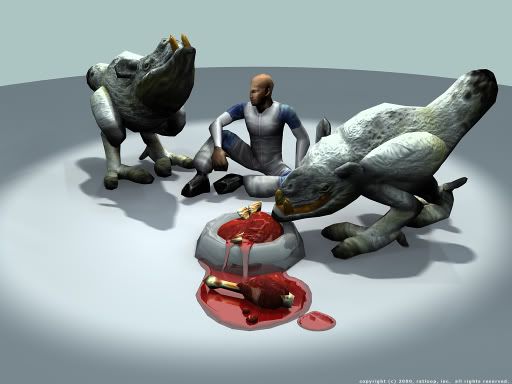 This seems to be I Hate My Students Week in higher education. In the Chronicle, the pseudonymous Thomas Benton writes of
"The Seven Deadly Sins of Students,"
while on the web, Inside Higher Ed features a blog by
Anonymous Professor
titled, simply, "I Hate My Students." "Benton" hates his students because they fall behind (sloth), grade grub (greed), cover their vulnerability and terror with hostility (anger), wear revealing clothes (lust), eat whole chickens in front of him in class, apparently without his intervention (gluttony), express the frustration they feel at their professor's alienation and indifference by attacking smarter, more together students (envy), and wish to be better and better off than their parents and yes, their teachers (pride).
I felt horror when I read this: "It seems hard these days to find a student in class whose mouth is not stuffed with food. Such students will often say that they have no other time to eat, but previous generations — who were no less busy — managed to consume small snacks between classes. That is why colleges have vending machines."
So let those students rushing to or from jobs, and those students on financial aid overscheduling themselves, eat cake, right?
Reading Benton, I am reminded of professors I know in disciplines other than English who complain about teaching writing to undergraduates. The sad fact is that it is ALL of our jobs to teach writing to undergraduates, because that's what we do: we teach. Similarly, when students sit half-naked eating chickens while trashing each other in class, it is our job to teach them manners. Sadly, most people don't have manners anymore, but the world is usually always improved by civility. Why are his students so indifferent, desperate, freaked-out, naked, hungry, hopeless, and grandiose? Is anybody talking to them, working with them, giving a shit about them? What the hell is going on here?
Anonymous Professor hates his students because they grade grub, write crappy papers, and want genuine feedback from him about their ideas as they relate to the discipline, rather than the responses of a TA paid to grade for him. It is clear from his tone that he doesn't respect them; he calls them "Stupid Bitch" and "Moron" in his blog, which is structured to show what he actually said ("I'll be happy to give you more substantive comments") and what he wanted to say/should have said ("Hey, moron, no one will give a fuck about what content you have when you don't even know the difference between than and then or weather and whether. They will just laugh at you. So shut up and sit down and fuck yourself.")
Wow. And they pay you to teach ANYWHERE?
Students are frustrated because they are paying tuition at rates that terrify them, their parents, and their spouses/partners. They are working hard for a degree that may not lead to a job when they graduate. They are working full-time jobs. They have kids. I have taught students from Trenton and Newark whose large families lived on less than 12K a year. I have taught culinary students up since 3:30 am cooking who wished they never had to write another paper. I have taught first-generation college students from immigrant families, students working, going to school, and raising families of their own. I've taught kids who just want to party in Florida, kids who giggle when I joke about coming to class stoned--because they ARE stoned. I've taught geeks and sorority types, athletes and rich kids, students from fancy suburban high schools and students from the inner city.
Sometimes they have driven me crazy, but I never hated them. Their arrogance usually masks terror at what they don't know, so you teach them. Their envy is a fear that they can't compete, so you teach them. When they don't do the reading, you make them do it there. When they are frustrated or scared, you encourage them.
It's your job.
What they don't need is some dickless wonder with an incredibly nasty attitude who doesn't have the courage to say something close to what he needs to say to get their respect. Why don't they respect you, I wonder, reading his loathsome hurl of a blog. How can they not adore you, when you clearly possess such empathy, such respect, such strong boundaries?
And what the hell is up with Inside Higher Ed giving a forum to this moron?