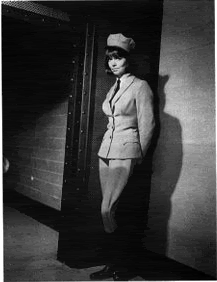 Oso raro's lovely tribute to gay pride
moved me to relate my own pride story, or Pride Eve story, about Saturday, the day before pride, which in some cities is dyke day. It's dyke day because it's the day of the dyke march, a tradition that started for me back in the early nineties in New York City, when the girlz decided they needed their own parade of power. I remember marching up the big avenues behind Lesbian Avengers waving giant guns. My friends and I applauded the energy, but guns? we wondered. Weren't we supposed to be a GENTLE Angry People?
This year we faithfully turned up for the dyke march in our city, a much smaller affair up in the northern part of town. Yes, we have Dykes on Bikes. No, we don't have a lot--maybe ten bikes in all. But the ladies are tough as nails, and the bikes are almost all Harleys. They rev their engines and send smoke and fumes into the air, and everyone screams and swoons, and it's good unclean fun.
There are placards, and a few organizations, and people on the sidewalks wondering what we are marching for. There is a group of drummers on the corner making sure we make the turn heading down towards the lake. There are women wearing nothing but crosses of electrical tape over their nipples. Some of us exchange stories about the awkwardness of running into students who insist on hugging us in their electrically-taped dishabille. One of us reflects on the perkiness of young breasts, observing that if she taped Xs on her nipples, no one would see the tape, since everything would be pointing down and hanging so low anyway. Several nod mournfully.
One of the benefits of being older and more experienced is realizing that you can do the main part of the march, then avoid the boring rally afterwards. Also the participants there are 20 years old. This is new to them. We, on the other hand, are hungry.
We cut out, find a cafe, and eat nachos and drink a couple beers. Then it is time to check out the festivities in the neighborhood. Lesbians from the suburbs have flocked in to socialize with other lesbians at bars and boring parties in parking lots where you pay 10 dollars to hear a cover band that sucks, where everyone is a stranger (not in a good way), and a plastic cup of Miller runs you five bucks apiece. Meanwhile, just outside Satan's Sandlot, a perfectly nice bar with window seats looking out on the street sits empty. You have paid dearly for a crappy party, but you choose the bar. It proves a good choice.
You sit with your gf and order a drink. Friends see you in the window and join you. At some point the table is full, and more and more women are coming in the bar. We hold the table, sending out scouts for hotdogs, brats, veggieburgers, fries. At some point it is time to have a roundtable. It begins innocently, with the lesbian ritual known as the Feeling of Muscles. Each bicep is flexed and given appreciative treatment by the group as a whole. Workout strategies are exchanged. I wish to point out that the feminine types are the most eager to have their muscles measured.
It is time for the Throwing Out of Topics. We are all trying to play it cool, but eyes are shining. Everyone is revved up to see so many women pouring out onto the streets of our neighborhood. The whole town seems bursting with lesbians. Bursting.
"Vibrators: Blessing or Curse?" is the first topic, followed by "Dildos: Relationship Fad or Fixture?" And we're off.
I'm happy to report that despite some of us grumbling that vibrators have ruined the finesse of lesbian sex (how are those machine-dependent girls ever going to learn technique?) most of us are eager FOH, or Friends of Hitachi, which if you don't know is the Harley of vibrators. Accept no substitutes.
I am also happy to report that while some of us only strap it on occasionally and even listlessly, others among us cultivate a dildo collection with rare discernment. I learned that one way to impress your girl is to carry your toys in a briefcase. Agent 99, we've simply got to go over this paperwork!
As the evening wore on, most of us became more animated, rather than less. It began to dawn on gf and I that this was all adding up to big time foreplay for the couples around us. Even the single people seemed to be planning a hot date with themselves. The final straw was a heated discussion about the best time of the day for sex, followed by an analysis of days of the week. By the time the group broke up, it seemed pretty sure that everyone in the group was going to get lucky that night.
So did we? They? Answering these questions directly can be construed as crass, but I can say with absolute certainty that no one should ever underestimate the empowering effects of sexualized conversation on a group of lesbians sitting in a bar filled with lesbians on a street populated by lesbians in a city euphoric for gay pride. That's all I'm saying.
The next day was fun, but anticlimactic after the night before (cough). We ran into some of the same friends on the street during the pride parade, and we all hung out for a while in the sun. At one point I thought I'd joke with them. "So, was the evening successful?" I asked, laughing. One friend answered me right away.
"Let's just say I told her there was no way she was coming home last night and playing with the dog!"
That reminds me of a good topic for next year's bar panel. "Lesbians cats and dogs: amiable roommates or kinky, furry little voyeurs?"