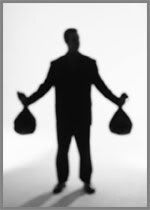 File this one under: Huh?
Money Magazine just reported that the second-best job to have in the country (behind software engineer, at number one) is "college professor." Money's rankings are based on level of stress, pay, and growth possibilities, among other things. Money acknowledges that competition for tenure-track jobs will remain stiff, but that higher demand for faculty is bound to happen, given an exploding population of students. Money thinks that the average professor's salary is 82K a year.
"So by 'college professor' do they mean 'full professor'?" you ask. The answer is no. Apparently they are factoring in what they call "moonlighting adjuncts" as well. It's a good thing they factor these in, too, since the fantasy that retiring tenured professors will be replaced by tenure-track lines is, well, a fantasy. In the meantime, if anybody knows anyone who has one of these low-stress, high-paying jobs, let me know.