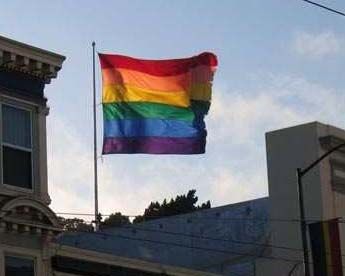 WARNING: This isn't one of my serious-type posts, where I try to be all artsy and tie everything up in some profound bow. This is a newsy, slightly bitchy post. I hope that's ok, because I am feeling slightly bitchy a lot these days, which means you have to listen to it but hey, it's better than depressed. For me, anyway.
I went to my first meeting today. No, not THAT kind of meeting, though after this weekend's multi-martini bender in Midwest City with GF and my best friend from out of town, I probably should go to one of those meetings. No, today's meeting was a chance at last to meet GLBT people at my school. I have been looking forward to it. The group calls itself SOLIS, which stands for something I've already forgotten having to do with Sexual Orientation Legal whatever. I find this acronym very interesting, because it sounds so, well, solitary, which is exactly what I've felt here. Note that the usual name for the gay groups in many law schools is OUTLAW, of which there are chapters all over the country. Now, besides the sly nod the name gives to the way gay behavior has been criminalized in the past, OUTLAW is also a cool acronym because it sounds very OUT. SOLIS, on the other hand, not so out. Maybe masturbatory, as in one of my favorite nineteenth-century euphemisms, "solitary vice." But not exactly loud and proud.
Ok, so I used to teach English, and I'm a little heavy with the close reading, which law school is only intensifying. But I go to this meeting, and there are twelve people. I know, you're wondering, "Where's Jesus?" Me too. But besides this, I'm wondering why the hell there are only twelve gay people in a college of 680 J. D. students and 37 L.L.M. students. To make my heart sink even further, the president of the group applauded the "large turnout."
So you're doing the math, and you're coming up with about 717 students, right? Ten per cent of which, if Kinsey is anywhere near the mark, should be gay. That's 70! Five per cent if you credit recent scholarly insistence that Kinsey overestimated his one in ten. That's 35! Half of that is, well, you get the picture. We didn't even get half of that. The twelve of us waited for our pizzas to arrive (pizzas are apparently the way they get you to show up to organizational meetings at my school), and introduced ourselves to each other. It wasn't hard. And you better believe I memorized each name there like it was my secret agent password to get me out of the war zone.
Now, I understand that the law is a conservative profession. I understand that my school is in the cornfields. I understand that even the people that make it to law school as out GLBT folks tend to stay in big cities, if only to stay alive, get a date, and not go ballistic when they walk by the Federalist Society organization booth.
But we are a public institution less than 150 miles from one of the largest cities in the country. I couldn't help it. Yes, I was crabby. "Is this it?" I asked, loudly. "Is this really a large turnout?"
I regretted saying it almost immediately. Some of the people in the room got that sad, shamed look in their eyes you see when country people think you are making fun of their town. I grew up in the country, and I don't think city life should always or even ever be the measure of value and sophistication. That wasn't what I meant. Certainly this college town is fairly urbane. When you go to the Panera (ok, now I'm getting that look in my eyes) you can see a mix of people that includes genuine farmers in jeans and John Deere caps, ladies with long white hair who look as if they have looms in their houses and pottery wheels in their backyard sheds, Sikh men in turbans, hippies, many different people of color and families of color, professor types, student types, graduate student types, people who haven't quite figured out how to leave here and get on with their lives, people who are various combinations of several of these identities, and more.
In addition, our law school is in the top 25, top 20, or top 15 of the 200 law schools in the country (depending on which ratings system you go to). I certainly don't feel as if this is a second-rate or backwards place. And yet.
Twelve people.
The good news is, I could probably take over the gay organization if I wanted. Hell, I could crown myself Queen of the Night and drop down to my seat in Contracts every morning riding a crescent moon. But all of this doesn't matter if there are no subjects to rule. Where are they? Did they not come? Are they not out? Or--and this is my favorite theory--are they so young and so interested in NOT being alternative that they aren't out yet even to themselves?
On the bright side, I met some very nice people at the meeting. One went to my undergrad college, though much more recently than I--aged thing--did. Two knew people in common that I am friends with at Elite University, though as teachers, not friends in the way I--aged thing--know them. One went to the MidAtlantic university as an undergraduate where I--aged thing--got my PhD. The 2Ls and 3Ls planned barbeques and happy hours, talked of getting a speaker or two, and invited the 1Ls to visit a firm in Midwest City in October.
The best part, though, is that several people in the group are 1Ls, which makes me think that even if Jesus doesn't show up for one of our meetings, talks, barbeques, or happy hours, we'll somehow figure out how to keep our tiny sect alive here in the coming years.
There's my moon idling outside to rapture me off. Gotta go read Torts now, but next time, I promise to tell you all about how truly creepy it is being a student in the machine that is the law classroom.
I won't make you wait long, because it is bugging the hell out of me.