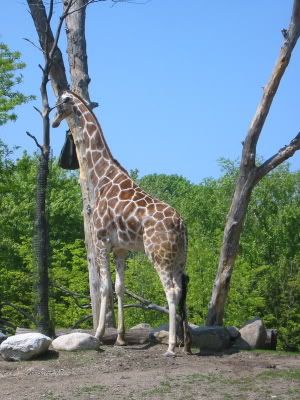 It's been hard to blog lately because of the end of the season, the end of the quarter, and the end, for me, of who I've been. While there will be a lot of continuity in the next several years, there will also be, well, not. So I decided to get back on the bloggin train with an entry about nothing in particular that reminded me how intensely thinking can happen in everyday life without any institutional assistance at all. After all, we think hard every day, even at the zoo.
Today we went to the zoo. My dad is visiting, and we thought we should ramble through the park a bit. I don't know why it made me feel better to go to the zoo, but it did. Maybe it's because I live in a great city with a free zoo. Maybe it's because being outside on the first warm day of early summer connects a person to everything and everyone again after a long winter. Maybe it's good to remember the rest of the planet, and the creatures on it, as a way of keeping perspective. All I know is that zoos are places where you can't help thinking--about captivity and freedom, about preservation and ecology, about ethics and species, about unconscious and conscious ways of living, about habits, about mental darkness, about selflessness, relaxation, justice, civic duty, community, communication, separation, clumsiness, and meaning well. It's not that zoos are nice or horrible. They're just very, very complicated places.
So we went to the zoo. And I'm putting up a giraffe because there is something inspirational about such an improbable creature being able to reach so high.