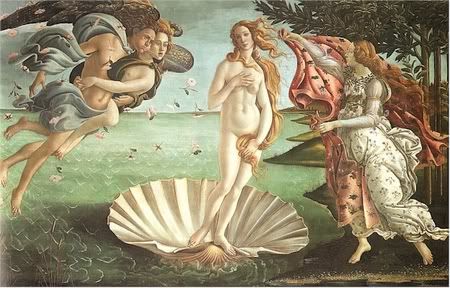 Yesterday was Amy Lowell's birthday. I first discovered her poetry when I was a teenager. I was in that adolescent girl poetry place, and managed to get my hands on the Poetry magazine anthology that contains "Venus Transiens." The first time I read it, I couldn't believe it. At that time in my life I had public boyfriends and secret girlfriends. My secret girlfriends were divided between best friends I had crushes on but would never be able to manage to sleep with, and friends who I had sex with but didn't love. We knew we had to keep things secret, but we got a kick out of our down low bisexual lives, we with our long hair and our boyfriends. We didn't have to make decisions. We made out in the hayloft. And there, with all of life and its choices laid out before me, I found this chivalrous poem from 1915, where one woman looks at another and literally feels the earth move. Sure it's schmaltzy and romantic, with its Botticellisms and pretty details. But it's also so damn lesbian. Impersonal speaker aside and all that, when you read it you KNOW, with the hairs standing up just a little on the back of your neck, that it ain't no man that's supposed to be thinking this on some wave-crashed shore. You know it's a woman. And this poem stays in your head. It's the one you scribble down in a love letter when finally, at college, you let yourself fall in love for the first time.
I'm not saying this poem made me love women, but it sure made me love that I loved women. A lot. And it made it ok because it was poetry, and it was history, and it was heartfelt. So happy 102nd, Amy. Your poetry certainly lives on.
VENUS TRANSIENS
Tell me,
Was Venus more beautiful
Than you are,
When she topped
The crinkled waves,
Drifting shoreward
On her plaited shell?
Was Botticelli's vision
Fairer than mine;
And were the painted rosebuds
He tossed his lady,
Of better worth
Than the words I blow about you
To cover your too great loveliness
As with a gauze
Of misted silver?
For me
You stand poised
In the blue and buoyant air,
Cinctured by bright winds,
Treading the sunlight.
And the waves which precede you
Ripple and stir
The sands at my feet.