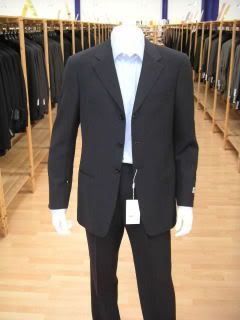 "We would like to interview you at the MLA." The hoped-for words flashed across an email one evening, and I grimly savored them for a tiny private moment before turning to my Person seated at a chair on the other side of our shared office. "I got the interview."
"What???" She squawked, kicking her chair away as she dashed to my side. She silently mouthed the contents of the very short email. Her first words sounded panicky. "What will you wear?"
It tells you something important about her that this was her response to my kind-of triumph. After all, I was a girl that had been asked to dance at the last minute. I wouldn't have to cancel my prom plans. Some university out there thought I was attractive enough to ask to the MLA. But like the girl she is, she immediately starts worrying about the prom dress.
She wasn't wrong to worry. I bought my first and last interview suit 12 years ago this month, and I haven't exactly kept my shape since. Fifty pounds--yes, that much--stands between me and the Liz Claiborn pinstripes I pulled off the rack back then. I still go to the gym, even run three or four miles a couple of times a week, but 50 pounds sits on my 43 year-old shoulders in a way it didn't when I was 31, although I remember, way back then, thinking I probably needed to lose some weight. That suit is long gone, as is the girl with the shining face who thought it all would somehow, magically work out for her in the end. Those pounds weigh on me like a metaphor, like the years that have dragged down my flesh and my heart until I ceased to care much about either. How could a suit fix these pounds, years, sadnesses? What did it matter what I wore?
"What are we going to do?"
I assured her that I had dressed myself for years and could continue to do so. She told me she just wasn't sure. I told her to stop treating me like a baby. She told me she just worried I wouldn't get around to it. We stopped the conversation at that point. After a few minutes she told me I could go shopping on my own and I told her I appreciated her interest, and would be grateful for her company and shopping expertise.
How did I come to this pass?
She is an expert, that must be granted her. I have never seen a woman move around a mall with such swimmerly confidence as that California girl breast-strokes through racks of clothes. The problem, when we finally got to the mall, was which department to start in first. Men's or Women's? Casual or Career? Plus Sizes? That one was easy. Should I find something funky and bohemian or invest in a suit I could wear in court, should I end up in law school next fall?
Since I wear men's clothes, my first instinct was to shop in men's, but I could see her getting agitated at the thought of too much tailoring and long, baggy, boxy cuts. I agreed to go to women's, much as I hate the undignified cheap lines of most women's clothes, which seem to me to have been designed to enforce castration rather than decorate it, which usually means making women's thighs and asses look so balloonlike and ponderous as to rob them of all grace and beauty. As soon as I tried on my first women's blazer, cut long and roomy, GF smiled. "It fits you," she said happily. "It actually fits you." Feeling like I was shopping with my mother, which I was, I determined to find the most mannish, no-nonsense suit I could, which I did. It was black. It was that polyesterish suit material, but at least the pants had a front fly. GF found a snappy shirt on sale. We both began to breathe easier.
She nearly had to go and ruin everything by mentioning bras, a four-letter word if ever there was one. But I had already recognized my own denial and negativity. I knew I had to carry on the masquerade of masquerading to the bitter end.
There is no moral to the story. After trying on bras that seemed to bite and scratch as I struggled to squeeze them on, I finally agreed to just one as a sort of tribute to the 350 dollar suit I wanted to look nice wearing. The bra cost more than I used to spend on a week's worth of groceries (50 pounds ago) and points me forward like twin missiles on the verge of a launch, but I figure their sculptural effect will give me a sense of direction. Upward! Forward! On to better things!
The suit is getting altered. Sadly, I am not, though my snappy suit will help me pull off the embodiment I drifted away from years ago, the together, genderbending young academic woman going places, thinking up a million projects, imagining thousands of different job scenarios, places to live, lives to lead. My on-the-market suit will hang in the corner of my room at MLA, like an older, yet newer, self, and when I take her off her hanger and put her on, she will remind me, sadly, of the girl I left behind long ago, the lighter, younger girl who believed, who still believes. I will have only to look down at my new suit, at my reanimated self, to remember her strength, her confidence, and her faith that things might just work out after all.