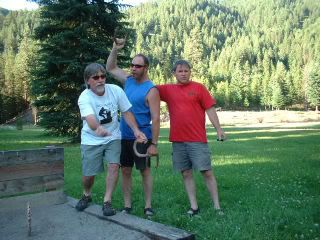 So New York decides not to extend marriage to same-sex couples on account of how the blanket of marriage seems too small to cover those darn impulsive straights. With three in the majority, one supporting, and two dissenting, the court argued that opposite-sex people need marriage because they can accidentally become parents at any time, while same-sex people cannot:
"These [same-sex] couples can become parents by adoption, or by artificial insemination or other technological marvels, but they do not become parents as a result of accident or impulse. The Legislature could find that unstable relationships between people of the opposite sex present a greater danger that children will be born into or grow up in unstable homes than is the case with
same-sex couples, and thus that promoting stability in opposite-sex relationships will help children more. This is one reason why the Legislature could rationally offer the benefits of marriage to opposite-sex couples only."
I so wish this would mean that infertile couples now can't marry, and post-menopausal women can't marry, and impotent men can't marry. What if you couldn't marry if you need a surrogate, or in vitro fertilization, or fertility treatments of any kind? Or if you're old? Or if you need Viagra? Or if you've had a hysterectomy, or a vasectomy, or had your tubes tied? Or if you're on the pill? There'd be hell to pay, that's what.
It's clear that there's a willing blindness here about non-reproductive heterosexual sexual activity. After all, as the judges argue:
"A person's preference for the sort of sexual activity that cannot lead to the birth of children is relevant to the State's interest in fostering relationships that will serve children best."
The decision later takes up the question of excluding childless straight couples and dismisses it by arguing that such an exclusion would be too intrusive. Apparently, however, it's not intrusive to prohibit gay and lesbian parents from marrying. So the possible but unlikely children of childless het couples are more worthy of potential protection than the actual, living and breathing children of gay couples? Or is it just that straights are way more unstable, as a rule?
And does this mean that marriage will be extended to polygamists? After all, if anybody is engaging in sexual activities that could lead to accidental and impulsive conception, it's those Big Lovers, right?
I think it's time to hurl ourselves into the fray, and I encourage all of you to out every straight couple using birth control to your local officials and representatives. Those of you who prefer oral or anal sex, or do use birth control, or cannot conceive without performance-enhancing drugs or fertility treatments, you are on notice. Your parasitic enjoyment of the rights and privileges reserved for breeders is over, your queer status now about to be revealed as anti-American and selfish.
Meanwhile, we lezzie girls need to throw a sperm-wrestling party or two, while the homo boys can play "surrogate toss," if they can find women willing to be human horseshoes. These diversions should up the accidental factor enough to get us our piece of the marriage pie, and also prove an entertaining spectacle. Cheer up, queers. Summer picnics in the park are about to get a lot more interesting.