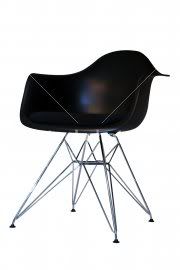 Be patient with me for a minute while I get sentimental about my office furniture. See, I always wanted to steal this one particular chair. When I first got my job, I saw this great little modern chair sitting in my hallway outside someone's office door. It looked a lot like the picture above, only the legs were just four metal bars instead of the nice intricate chrome in this picture, and it was covered in dark green leather. It actually is a fabulous little chair. It fits the 1969 anti-riot architecture of the school, and I loved its saucy modernism. I whisked it away, and it has sat in my office these seven years now, under my Xena poster. Students often sat on the chair when they came to my office hours. That chair has a lot of excited-to-be-reading-modernism in its vibe. It has a lot of queer-theory-is-cool, too. It is so modern, yet so dark and unassuming. Its leather is worn, humanized, customized to a living presence. I just always liked it.
Friday I took down Xena, dollied my books to the parking lot, and left the key on my desk, as if I was leaving a hotel. I looked longingly at the chair, imagining how I could get it out the door on the dolly, surrounded by framed prints, or wrapped in bags, and scurry it to my car. I imagined turning it on its side to reveal bits of gum stuck underneath, or in any case, the dirt of decades of careless use. I stroked its dark, strange leather, noting for the hundredth time the place at the top of the back where the skin was splitting along the frame. I sat down on it, cooly cupped. I liked it better than the chairs I had brought there: the Ikea lounger, the blue butterfly chair, the plump leather desk chair. I was leaving all those. Why take this one?
I thought about taking things, stealing souvenirs, and why people feel comforted by theft. Does it give us the illusion of control, of continuity, to carry from place to place the objects we have absorbed into our daily consciousnesses and our dreams? Why do people take bathrobes and towels from hotels? Why do people take forks from restaurants? Was wanting this chair like that, or was it some other desire? Would I think of my old job everytime I looked at it, and would its little green turtle self in some corner of a room taunt me with my failures or cheer me with my escapes? I imagined it at home. I imagined it in some future office. I imagined it in a different setting altogether, one I hadn't even considered yet.
I touched its worn seams, turned off the lights, and walked out for the last time. The door clicked. There was no going back. I felt good for not taking it, good for leaving it behind in the time and place proper to it. It's not that I felt at all moral or just about stealing or not stealing it, it's just that I don't want to be Jacob Marley, too weighed down from where I've been to get to where I need to go. But I am still thinking about it. Not the job, or the place, or all the sadness, but that little chair, what--if anything--it might have meant once to take it as mine, and what it means now (if anything) to leave it behind.